27 March, 2016. 10:10
CHIP DOUGLAS | Other News | CONTACT
The Australian Olympic Committee have today released their athletes uniform for the 2016 Rio Olympics, modelled by their private school graduated athletes.
The Alex Perry designed uniforms, which have received mix reviews across social media, were custom-made to align with the privileged image of the current stock of athletes and their elite schooling.
President of the AOC John Oates noted "A lot of these private school graduates head off to the UK to work at another elite school as a gap student, usually over the course of 12 months…"
"What is attractive about our Olympic program is that it only entails two weeks of competition, the event usually occurs in an exotic location and the athletes village is essentially just one giant, sex-fuelled Contiki bus."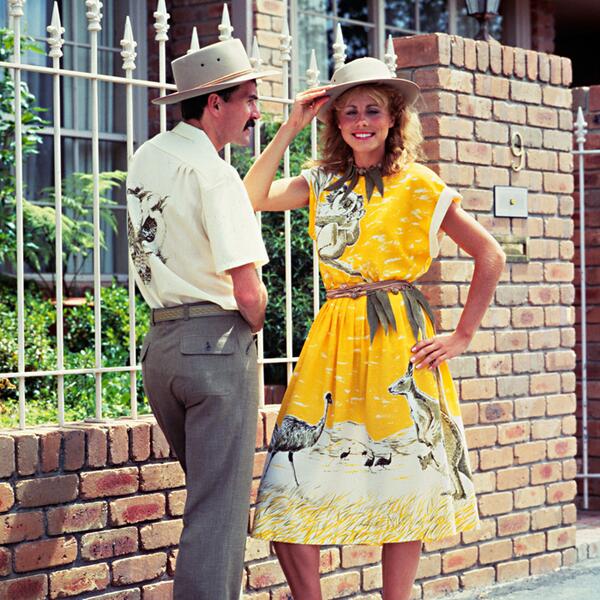 NOSTALGIA: Athletes Michelle Baumgartner & Robert De Castella model the 1984 Olympic Games Uniforms
Betoota's sources within the Australian camp have confirmed that the uniform was originally proposed to feature a straw boater hat to finish off this dapper arse clown outfit, but current Australian Rugby Sevens Captain Jono Jenkins threatened that he would boycott the Games as he "didn't want to look like one of those Knox faggots".
As per the private school system in Australia, uniforms will be purchased by the athlete's parents with no understanding of affordable uniform pricing in state schools.  Each set will privately retail for around AU$1,100.
A spokesman from the AOC commented "we went with a modest skirt length for the girls, but having most of these female athletes graduating from a private school, we have all the faith in the world that their gin swigging mothers will have these taken up to an acceptably slutty length".
Those who are wanting to apply for the all expenses paid two week Gap Program in Rio, John Oakes scoffed "Have you seen the list of shitty sports you can register to and compete in!? If you've represented your university at Uni Games, you can represent your country at the Olympics. Granted you attended a private school!"
When asked about some of the backlash the uniform has received from the Australia public, John Oakes retorted "Mate, we're still licking our wounds from the Sydney Olympics' Mambo designed uniforms.. "
"Dog Farting on Gold Medal winners T-shirts, what were we thinking!?"